Snowmobile Guide for the Columbia and Rocky Mountains of British Columbia
---
Introduction
British Columbia's natural splendor and biological diversity serves as a backdrop to a host of world class outdoor recreation opportunities. As a result, B.C. attracts visitors from around the globe, and ecotourism and adventure travel are among the fastest growing components of the B.C. tourism sector. B.C.'s backcountry is used by a variety of outdoor enthusiasts, and cooperation between user groups is necessary to ensure positive and safe backcountry experiences for all users.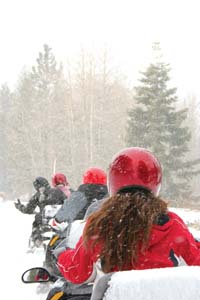 Legal and voluntary agreements have been developed in many parts of B.C. to try to ensure that all users - motorized, non-motorized, commercial and non-commercial have a winter experience that is both safe and memorable. They have also been designed to address environmental issues such as wintering wildlife and water quality.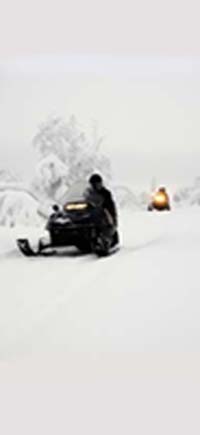 In many regions of British Columbia, many representatives of the snowmobile community have worked for years with other outdoor recreation sectors and government to reach balanced recreation land use agreements that respect the need to provide quality recreational experiences to a diverse range of backcountry users. Many hundreds of hours of volunteer efforts have gone into these processes, and by respecting and obeying these agreements we maintain and enhance sensitive ecosystems, protect our continued access to large areas of a B.C.'s beautiful backcountry, avoid more restrictive regulation, and demonstrate to other users that we respect their right to enjoy the backcountry.
Snowmobile Areas for the Columbia and Rocky Mountains of British Columbia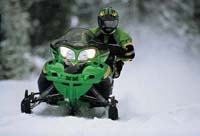 It is your responsibility to be familiar with the winter activities allowed in various parts of the area before you visit. Please obey and respect closed areas. Failure to comply and cooperate can lead to fines, equipment seizures, and ultimately closure of areas to everyone. Every snowmobile rider must be an ambassador for the sport. Please give careful consideration to your effect on the trails, environment and others. The future of snowmobiling depends on it.

Backcountry Experience
Although various backcountry activities are occurring on the landscape at the same time, each user group values and expects very different backcountry experiences. Sledders may enjoy covering ground with groups of friends, whereas, skiers may enjoy winter solitude on their own or with small groups. Communicating experiential preferences with other user groups will result in better understandings and relationships between all backcountry users and provide safe, accessible, and sustainable backcountry recreation opportunities
Backcountry recreation is important to local economies in British Columbia as it provides jobs, increases tourism and business, and provides tax revenues. If backcountry users have quality experiences, they will continually recreate in B.C.'s backcountry, whether they are local residents or tourists. However, if backcountry users are dissatisfied with their experience, they will no longer participate in backcountry recreation and B.C.'s backcountry business.
Backcountry Etiquette
British Columbia provides many opportunities for backcountry recreationalists, and if all users do not cooperate and work together, recreationalists can impact sensitive ecosystems, disturb wildlife, and disrupt other commercial or public recreation users. Winter safety is a critical issue for all of us, and separating backcountry activities in time and geography may reduce risks for all users.

User Conduct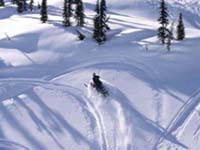 Commercial, as well as recreational backcountry activities such as heli-skiing, cat-skiing, ski-touring, snowshoeing and cross-country skiing are taking place in the same mountain locations as snowmobiling.
Before visiting an area, check for any commercial tenures in the area that may be affected by your presence and vice versa
If you find yourself in the same locale as other backcountry users, communicate with them and compare routes and safety concerns. By identifying areas that could be of possible conflict ahead of time, conflict can be avoided
watch for their tracks and avoid these areas when sledding
avoid endangering yourself or others by avoiding high-risk activities such as high marking in avalanche prone areas that are being used by other backcountry users
avoid using the same trails and roads at the same time as other backcountry users
actively seek out local recreation maps for the area you will be visiting
respect and protect all local land use signage
avoid entering designated non-motorized areas
avoid helicopter landing areas
respect other users and help them when in need
educate other sledders of the importance of supporting land use agreements.

Safe Sledding

Zero tolerance with respect to impaired riding. Alcohol magnifies and distorts challenges and can quickly turn an enjoyable outing into a situation that's hazardous for you and others. Alcohol and snowmobiling simply do not mix.
Know your abilities and don't go beyond them; know your machine's capabilities and don't push beyond them. Know your riding area. Get a map. You should always ride at a speed in which you can stop within your line of sight.
Follow the rules: Regulations on sled registration and use are different in various areas. Check with natural resource and law enforcement agencies, and snowmobile dealers or clubs in the area to make sure your ride results in legal and hassle-free snowmobiling.
Think ahead: A safe rider makes snowmobiling safe. Use common sense. Minor problems can be overcome by carrying a useful tool kit, spare parts, flashlight, first-aid kit and a few survival items such as high-energy food, fire-starting equipment and a compass.
Dress appropriately: Make sure your helmet is safety-certified, the right size and in good condition. Wear layers of clothing, so that you can add or remove layers to match changing conditions.
Beware of water: The safest snowmobiling rule is never to cross lakes or rivers. Besides the danger of plunging through the ice, you have far less traction for starting, turning and stopping on ice than on snow. You are responsible for your own safe snowmobiling.
Mountain Measures: Mountain snowmobiling can pose extra dangers, such as avalanches. Some avalanche areas may be posted and closed. Be cautious of avalanche dangers throughout mountain country. Riding in these areas should only be done after receiving mountain riding training. Mountain snowmobilers should carry avalanche beacons, shovels, and probe poles for locating people buried in snow and a portable radio to summon help.
Avalanche Safety: Sledders in backcountry areas should be aware of current avalanche conditions and familiar with the use of avalanche safety equipment. For more information about current avalanche conditions, equipment, and training courses, please visits the Canadian Avalanche Association at http://www.avalanche.ca/

Mountain Caribou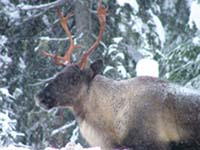 Mountain Caribou are an ecotype of British Columbia's woodland caribou population. They are globally unique, as they are the world's southernmost caribou population and the only remaining caribou that live in rugged-mountainous terrain feeding on arboreal lichens in winter. They no longer live in almost half of their original range and scientists believe that the population has declined because of habitat fragmentation, increased predators, backcountry recreation, and climate change. Currently, this population is listed on Schedule 1 of the Species at Risk Act (SARA) as Threatened.
The high country of B.C.'s Interior Wet Belt provides treed areas amongst large open areas, which are ideal for Mountain Caribou as well as various types of snowmobiling and backcountry recreation.
The presence of snowmobilers affects Mountain Caribou, as it may cause caribou to move into less suitable habitat where foraging is not as efficient or where steeper terrain may cause avalanche hazards. The unnecessary movement of caribou may also deplete their energy reserves during critical times. Packed trails may provide easier access for predators to move into caribou areas. For more information on snowmobiling and caribou in B.C., please see "Snowmobiling and Caribou in British Columbia" located at http://www.env.gov.bc.ca/wld/twg/related.html
Wildlife
Keep your distance/avoid and do not disturb wildlife
Respect the animals and their habitat, do not approach them or follow tracks. If you come upon animals, shut your machine down until they leave the area
Riding Areas
Stay safe and legal within the areas that you are permitted to ride or those for which you have obtained permission
There are lots of opportunity areas to ride so avoid areas that are marked as environmentally sensitive, protected, or off limits to snowmobiles. Obey and do not move, remove, or destroy information signs

Reducing Impacts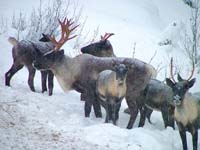 Know before you go! Identify whether your riding area is within caribou habitat
Identify snowmobile closure areas. Details and maps regarding local closures are in the Hunting and Trapping Synopsis, which can be obtained free at many sporting goods stores and on the web at: http://www.env.gov.bc.ca/fw/wild/synopsis.htm
Ride only in areas designated for snowmobiling; do not ride in closed areas
If caribou tracks are observed, do not follow the tracks
If caribou are encountered, turn off engine and wait until they have moved. Then, leave the area and refrain from riding within sight of caribou
Do not approach caribou and stay as far away as possible from caribou as safely as possible
A Snowmobilers Guide to Environmental Stewardship in B.C.
Take care of trails
Respect trails
Respect other users of trails
Avoid damaging vegetation by riding only where snow is greater than 30 cm deep
Do not approach, follow, or harm any wildlife
Leave tracks not trash
Bring out everything you bring in
For more information contact:
Ministry of Environment
Environmental Stewardship Division
Prince George, B.C.
(250) 614-9910